This years Pride was bigger than ever.
We kicked off Pride month with Transfusion – Trans Arts Festival, took part in Dublin Pride which returned to its original route and took part in the second annual Dublin Trans Pride.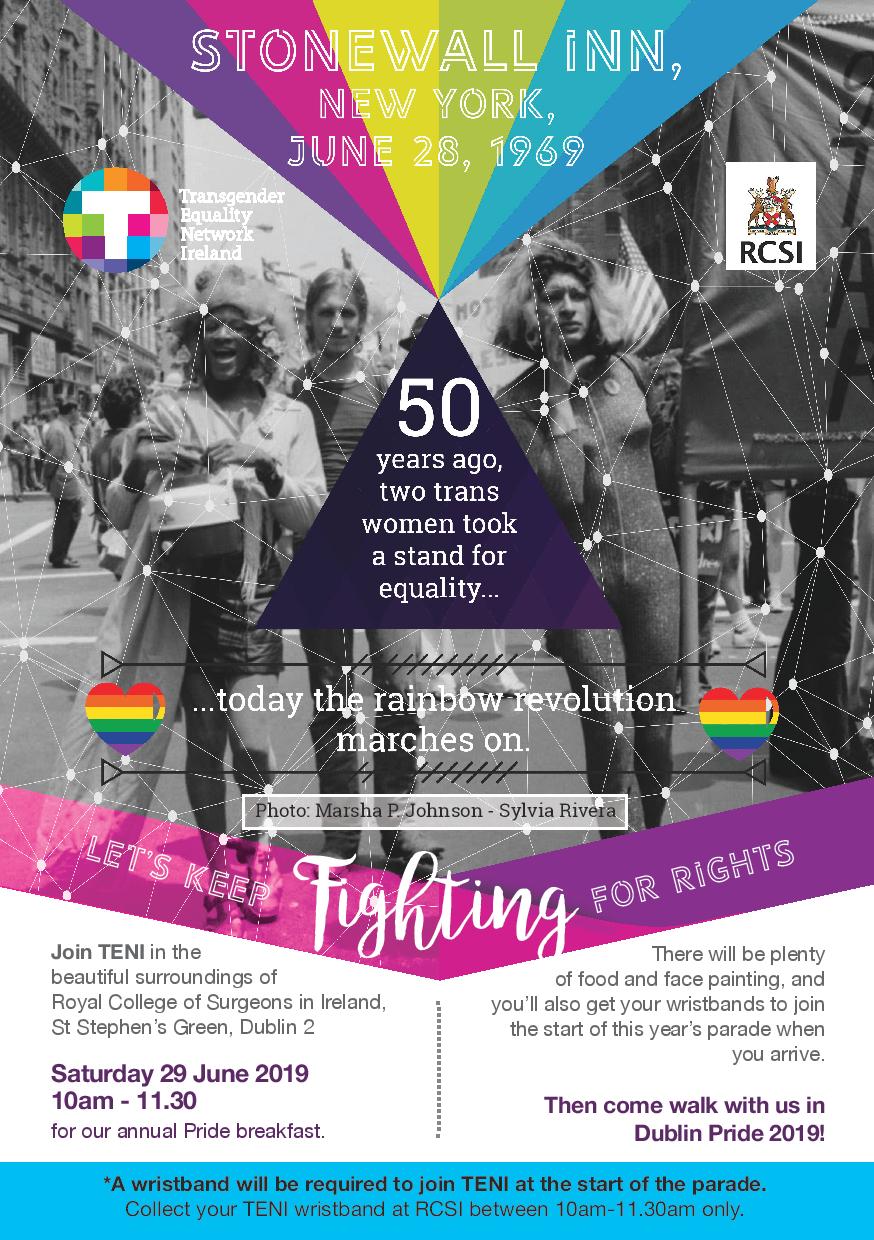 Dublin Pride 2019
The theme of this year's Pride Festival was Rainbow Revolution. It is also 50 years since trans activists and pioneers of the modern LGBTQI+ movement, Marsha P. Johnston and Sylvia Rivera, stood their ground at the Stonewall Inn, New York and in doing so, said 'enough' to persecution of LGBTQI+ people by the authorities and demanded civil rights for LGBTQI+ people everywhere. This year, we march in Pride to honour their legacy and join with the whole LGBTQI+ community in Ireland to keep the #RainbowRevolution going.
Dublin Trans Pride 2019
This year also marked the 2nd Annual Trans Pride parade, which started at the Garden of Remembrance, walked down O'Connell St and all the way to Merrion Sq. There was some fantastic speeches from our trans family and the event was bigger and better than ever. Well done to Trans Pride Dublin for organising such an amazing day.
Trans-Fusion
This year we were delighted to welcome back Trans-Fusion – Trans Arts Festival. The festival, proudly supported by TENI, Dublin Bus, Dublin LGBTQ Pride and EPIC Museum, CHQ ran from Friday 31 May to Saturday 8 June. Numerous events took place including history talks, documentary film screenings, stand-up comedy, music and poetry performances and an art exhibition at CHQ Building opened by Minister for Employment Affairs and Social Protection Regina Doherty.
Showcasing at the festival was 'Chrysalis' the stunning collection of portraits of trans feminine people in Ireland by artist Eva O'Donoghue. If you missed the gallery, you can catch Eva's amazing collection at the Royal College of Surgeons in Ireland building, 123 Stephen's Green, D.2.