On occasion of the International Trans Day of Remembrance (TDoR), TGEU has released the 2022 update of Trans Murder Monitoring (TMM).
The year 2022 saw 327 reported murders of trans and gender-diverse people between 1 October 2021 and 30 September 2022. With 222 cases, Latin America and the Caribbean remains the region that reported most of the murders.
Cases from Estonia and Switzerland were reported for the first time this year. The victims were migrant Black trans women – Sabrina Houston from Jamaica and Cristina Blackstar from Brazil. They were both stabbed to death in their own residences.
TMM 2022 data shows that:
327 trans and gender-diverse people were reported murdered;
Cases from Estonia and Switzerland were reported for the first time – both victims were migrant Black trans women;
95% of those murdered globally were trans women or trans feminine people;
Half of murdered trans people whose occupation is known were sex workers;
Of the cases with data on race and ethnicity, racialised trans people3 make up 65% of the reported murders;
36% of the trans people reported murdered in Europe were migrants;
68% of all the murders registered happened in Latin America and the Caribbean; 29% of the total happening in Brazil;
35% of the murders took place on the street and 27% in their own residence;
Most of the victims who were murdered were between 31 and 40 years old.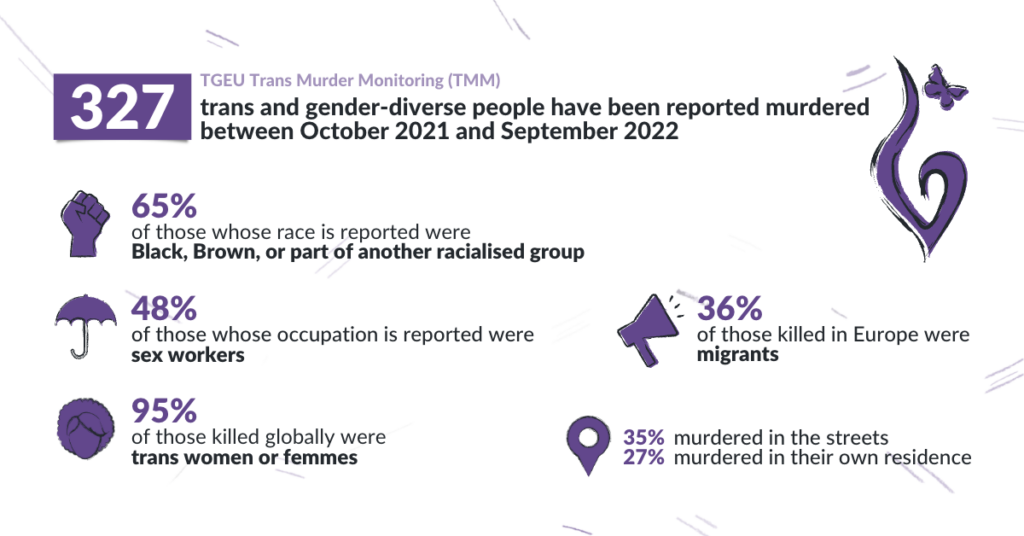 The data continues to indicate a worrying global trend when it comes to the intersections of misogyny, racism, xenophobia, and whorephobia, with most victims being Black and migrant trans women of colour, and trans sex workers. The high number of murder reports from Latin America and the Caribbean can be considerably attributed to the existence of established monitoring systems, and must be understood in the specific social, political, economic, and historical contexts in which they occur.
These numbers are just a small glimpse into the reality on the ground. The majority of the data came from countries with a strong network of trans and LGBTIQ organisations that conduct the monitoring. Most cases continue to go unreported and, when reported, receive very little attention.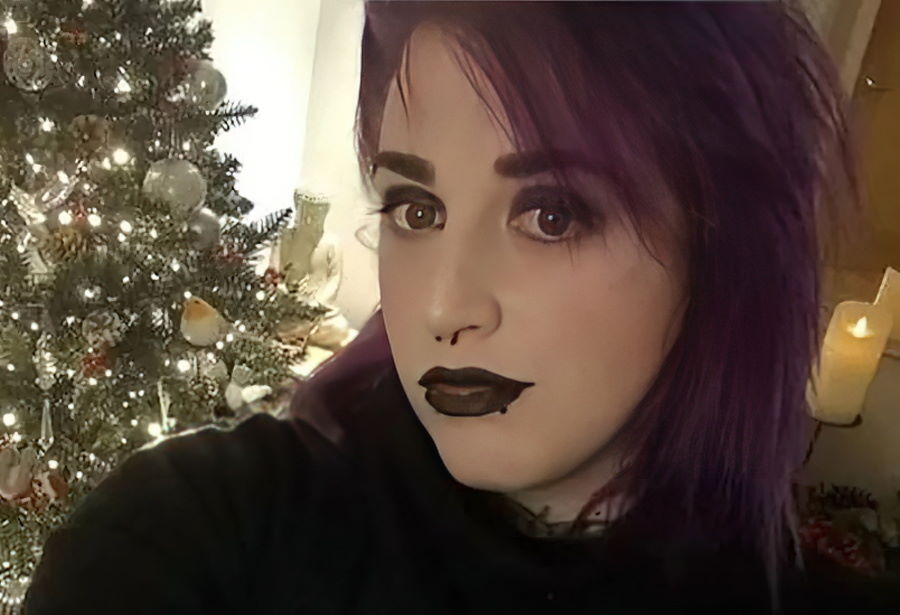 On January 3rd this year Zen Black, a nonbinary tattoo artist was killed in Downpatrick, Co. Down as the result of a knife attack that took place in broad daylight just outside their apartment at 11am. Despite witnesses attempting to intervene and halt the attack, they were pronounced dead at the scene after emergency services arrived. They were just 28 years old. The victim had complained to police twice that they had been verbally abused and threatened just days before. Zen, who originally hailed from Bangor was considered by many who knew them to be one of the best tattooists in Northern Ireland.