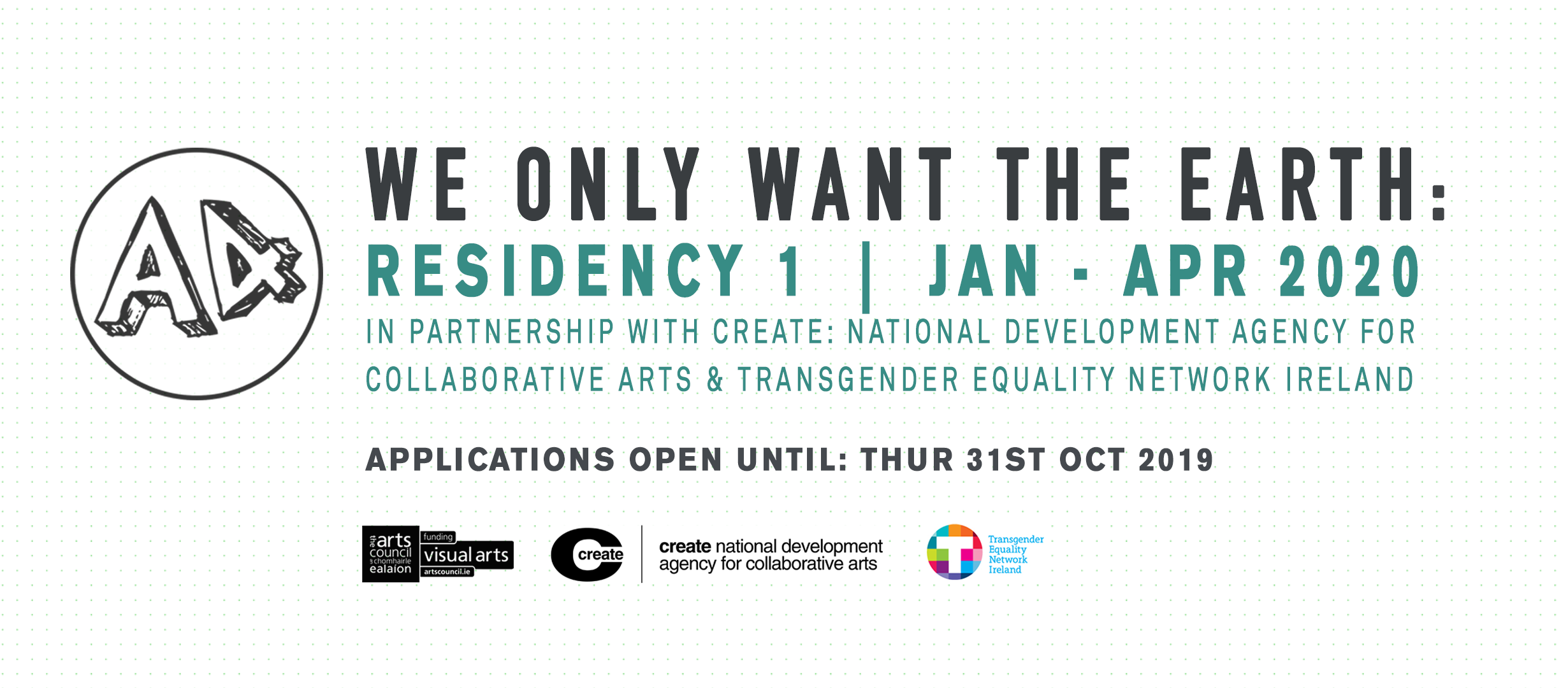 We are delighted to announce our partnership with A4 Sounds and Create, who, along with artistic collaborators Gender.RIP, are inviting applications from trans, non-binary, and gender non-conforming artists based in Ireland for a four-month residency award as part of We Only Want the Earth 2020.
The award includes:
24-hour access to studio space at A4 Sounds
A stipend and artist fees of €2690
Access to a range of professional development and technical supports.
Gallery space and a materials/exhibition budget of up to €1,000
Throughout the residency, advice and mentorship will be provided by A4 Sounds technicians and curators, a dedicated community engagement worker, and representatives from gender.RIP, Create (the national development agency for collaborative arts), and TENI. The award also allows the artist access to the facilities at A4 Sounds, including sculpture workshop, photography darkroom and printing suite.
Deadline for submissions is 5pm, Thursday, 31st October.
Artists are invited to apply for the residential with work based on any topic which covers the themes of We Only Want the Earth:
"We are living through a time of sudden and unpredictable social change caused by interlinked issues of global warming, the collapse of the neoliberal order, a resurgence of violent misogyny and nationalism, growing inequality, housing and homelessness crises, and the growth of ecofascism. We Only Want the Earth is a 12-month programme of awards, exhibitions, and events that seeks to interrogate the goals and strategies of social change: what kind of society do we want and how should we get there?"
This award is the first of a programme of awards and exhibitions which also includes partnerships with Fire Station Artists' Studios, MASI – Movement of Asylum Seekers in Ireland, Migrants and Ethnic-minorities for Reproductive Justice – MERJ and Dublin Central Housing Action.
For more information and to make an application please see here: https://a4sounds.org/we-only-want-the-earth-residency-1/Share